Sierra Tecnology Group SA
Sierra Technology Group was born in 1988. The company started as a technology solution provider for all kind of industries, and it still continues creating and providing professional tools for very different kind of business.
Garment decoration industry was one of the formerly attended businesses. Sierra Technology Group has been developing equipment, software and accessories for the garment decoration industry for more than 25 years. The company offers solutions covering diverse specific needs of this activity.
Among many created solutions we can mention: equipment and process automation, electronic control of embroidery machines, disk units and tape design converters, embroidery machines network connection, production control systems, edition and lettering systems, automatic and professional embroidery design systems, home embroidery design systems, hotfix rhinestone design software, hotfix sequin design software, custom garment decoration management software, etc.
Most of the products development is made in Argentina where the head office is located. Products are then sold worldwide directly and through a distribution network. Product features and quality have achieved a high level of satisfaction by users of more than 50 countries. Sierra Technology Group has exhibited its products lines in the world's most important international fairs including USA, Europe, Asia and Latin America, as well as in small fairs through local distributors.
Sierra Technology Group stands out particularly in innovation. The new features introduced in its products offer the users advantages without equal. Just as an example, the embroidery simulation using 3D real models (different to those fake simulations over fabric photos offered by other applications), or the excellent integration of art (that is raster images or vector files of other graphic applications) along with the design creation plus the stitch edition, and hotfix edition that have no comparison in the software market yet. Real time high quality simulation on the HotFix rhinestone design system is other amazing and unique feature of Sierra Technology Group.
It's the special interest of Sierra Technology Group that all their customers may count on more competitive tools always, and this refers not only to offer a quality product, but to contain the most modern technology, with high update frequency, scalable for users with different requirement demand, expandable to make work more productive, and specially with the best market cost services relation.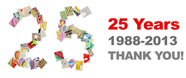 The innovation is the passion of all the organization that constitutes Sierra Technology Group. Many product features are inventions of our staff of professionals who have great experience in the garment decoration business, in the application development and much talent, as much as customer suggestions that have been using and enjoying this tools without interruption for many years.
Sierra's excellent reputation is the result of relentless effort in developing products with high content of innovation, and renowned quality of care. Our commitment is to provide the embroidery industry ever more competitive tools.
Sierra Technology Group S.A.